Why?
Some databases, such as the DOAJ, require journals to post their distribution policy. The DOAJ, for example, adds a link to Sherpa Romeo to the journal's entry:
In addition, some software is interfaced with Sherpa Romeo. So, for example, HAL proposes automatically a link towards the policy of diffusion of the selected review during the deposit of a document: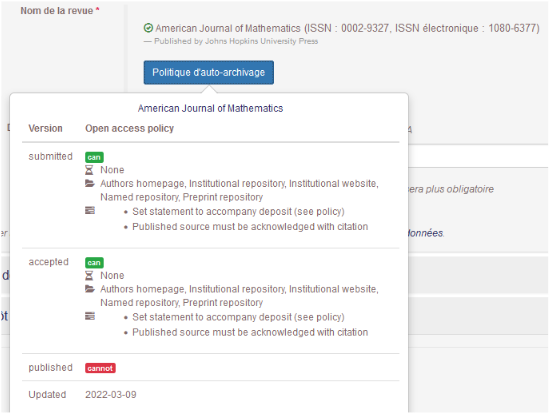 Completing the record on Sherpa Romeo allows authors to have simplified access to distribution policies on many other sites.
How?
Directly into Sherpa Romeo
On the Sherpa Romeo website, click on "Contact"> "Suggest a new publisher policy"
For each version of the article (submitted, accepted, published), fill in the following information:
Publisher Information: name + URL
General Policy Information:
URL of the journal's policy
what are the conditions of distribution (link to the publisher's version, authors retain their rights, etc.)?
does the journal charge a publication fee?
under which Creative Commons license is the article distributed?
Open Access Allowed: Does the journal allow open access to the article?
Where Can It Be Deposited ? On which sites can the author submit his article? ArXiv, Pubmed, author's personal website…
Embargo Length: specify if there is an embargo and if so, what is the deadline.
On Mir@bel
Mir@bel is a portal for reporting access to French electronic scientific journals. Since 30 June 2021, Mir@bel offers journals and publishers the possibility to declare their publication policy, which will then appear on the Mir@bel website: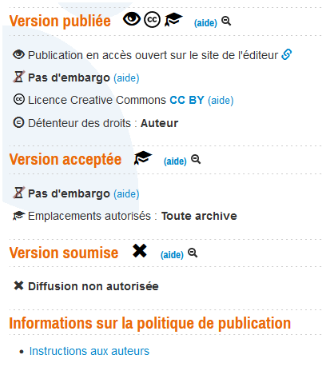 Mir@bel then automatically sends the information to Sherpa Romeo.
To add its distribution policy:
Log in to your Mir@bel account and click on the "My policies" icon.

If your journal does not appear in the list, you can request access to Mir@bel.
Click on the "Create Policy" button.

Then simply fill in the form:
Identification of the journal model: presence or absence of an embargo, publication fees, hybrid journal, subscription-based, etc.
Copyright: does the journal offer a rights assignment contract with the author? If so, is it an exclusive assignment?
Creative Commons license: does the journal have the non-exclusive right to distribute articles under the CC license? If so, which one? Specify the URL of the policy on the journal's website.
When?
The journal must already have an ISSN.
Required information to file a distribution policy on Sherpa Romeo:
ISSN
URL or e-mail of the journal
publisher's name
a contact person (name, e-mail, country, relationship of the applicant to the journal).
Other optional information is requested. It is advisable to fill in as many fields as possible in order to improve indexing and access to the journal.